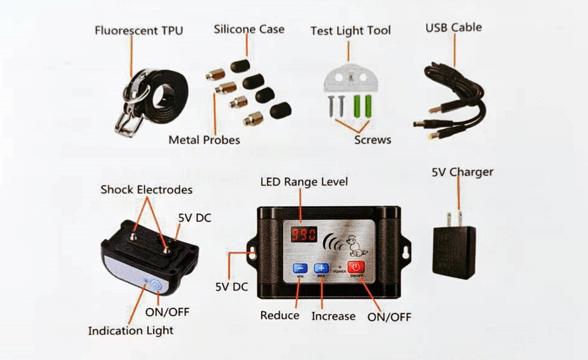 Parts and Accessories
Wireless Transmitter – 1
Waterproof & Rechargeable Receiver – 1
Screws – 2+2
Metal Probes-4
Reflective TPU Strap-1
Test Light Tool – 1
Silicone Case-4
5V Charger -1
USB Cable – 1
English Manual – 1
Please take a few minutes to read the instructions
Precautions
The fence controller unit should be placed more than 3 feet above the ground and in the open area as any structures/ obstacles/ barriers like walls, trees, and a garden shed can affect the transmission of radio signals.
Not recommended for aggressive dogs or dogs prone to behave aggressively.
If you are not sure if this product is right for your dog, please consult your veterinarian or a certified trainer.
For safety of the product, the fence controller unit should be used indoor or in a dry place ONLY.
To avoid irritation or injury to dog's neck skin, collar should never be worn for more than 12 hours in a single day. Check dog's neck frequently and reposition the collar if needed.
Always keep dog's neck area clean.
If a rash or sore is spotted, stop using the collar until the condition is improved or recovered.
Charge using the original charger.
Attention
It will affect distance and using when low power.
Please keep the Transmitter always power on, if not, the receiver will go to working mode, shock your dogs two times, and bi-bi-bi always.
Introduction
This wireless dog fence. It gives the convenience to contain your dog wirelessly without the hassle to bury a boundary wire. From the fence controller box, you can instantly send a correction signal (beep sound, or shock) to train your dog. You can use it inside the house or outdoor.
Main Characteristic
LED display distance, Five Levels signal fence distance(According to the environment, there will be a gap of ± 16ft)
100ft, 200ft, 300ft, 500ft, 990ft
The transmitter (lithium battery) and the receiver can be charged, and
the receiver is waterproof.
No need to pairing between transmitter and receiver, the device can
accept signal to work after turning on.
One transmitter can connect up to 5 receiver
Reflective fluorescent TPU collar, improve the safety at night. 6. Use with silicone sleeve to prevent pets from directly touching the metal
How to Test
Before using, please connect the power supply (or fully charged) and use the following method to confirm whether it works (Shock test need use the LED Test Light Tool).
After Power on the Transmitter and Receiver, then power off the transmitter,the receiver will launch bi-bi-bi always.
Working Principle
Receiver will not work among setting distance, will work as below when exceed the range.
When dog not in the range, Receiver working modes as below (indicator lightflashing when working): 1). Sound 5 seconds; 2). Shock 5 seconds; 3). Sound& shock at the time for 6 seconds;
After 2 cycles of working modes, it will launch di-di-di sound always emitted until the dog returns to the set distance.
After 5 minutes of static, it will enter standby mode.
After the second no signal 5 second delay work.
Using guide
Support up to 5 dogs with a maximum straight radius of 990ft, centered on the launcher. 2. When dog exceed the setting range, receiver will start working mode
automatically. (refer to the working modes at "Working Principle").
Please keep the Transmitter always power on, if not, the receiver will go to
working mode, shock your dogs two times, and bi-bi-bi always.
Receiver using guide
Receiver is water proof and rechargeable, the metal probes can be replaced according to dog's hair length. Receiver static for 5 minutes, to sleep. Touch or move the receiver, it will be awakened.
Press power button 1 second, receive will be turned on, power light will be on always, Press power button gently, receiver will be turned off. 3. LED testing light used for testing shocking, testing light on means shocking
function is working.
can be used as wrench to fix metal probes.
Charging
Only for charging transmitter battery.
Transmitter is rechargeable with DC 5V, 2500mah lithium battery, LED will display 000 flashing When low battery, please charge in time, usually 4-5 hours for full charge. After full charge, the red light will be on always, please use the original charger.
Receiver is rechargeable with 5V 400mah lithium battery, taking 1-2 hours for full charge and then be used for about 500 times. Receiver 5V low battery reminder: indicator light flashing, please charge in time, after fully charged, the green light will be on.