Dear Customer:
Hello! Thanks for using this product.
We sincerely hope to help you create a high-quality pet raising life.
Please read this manual carefully.
Product Diagram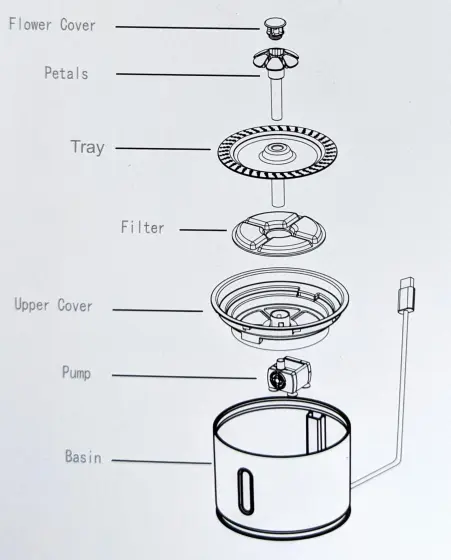 Operation Guide
Take out the equipment and all accessories.
Wash the basin an add water.
Take out the filter and soak the filter in water for cleaning.
Install the filter into the upper cover and cover the tray.
Insert the flower spray head and turn on the power to start working.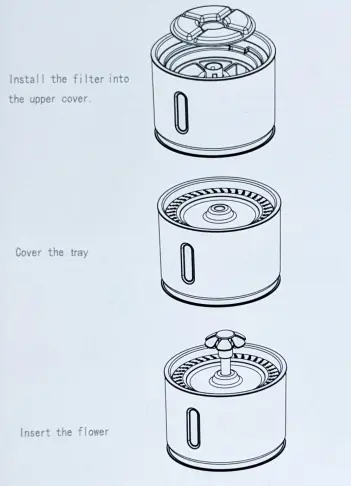 Schematic Diagram for Pump Instillation

Product Parameters
| | |
| --- | --- |
| Model | DR008 |
| Size | 188*188*149mm |
| Material | PP resin |
| Weight | 0.6-0.9Kg |
| Capacity | 2.4L(80oz) |
| Power Supply | DC 5V 1A |
| Recommended pet type | Cats and Medium/Small Dogs |
Daily Maintenance of Pump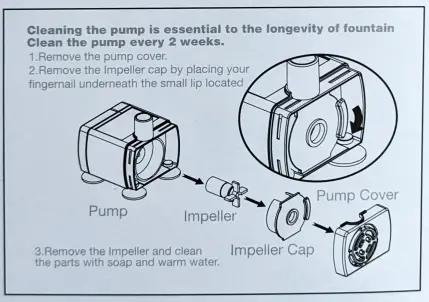 Cautions
Be sure to shut down and disconnect the power supply for safety when the equipment not in use.
This product is for indoor use only.
The power adapter and wire plug must not be flooded during cleaning.
This product is not allowed to run without water ( can be ignored for models with the function of outage automatically without water.)
Please disconnect the power supply before maintaining and cleaning the machine.