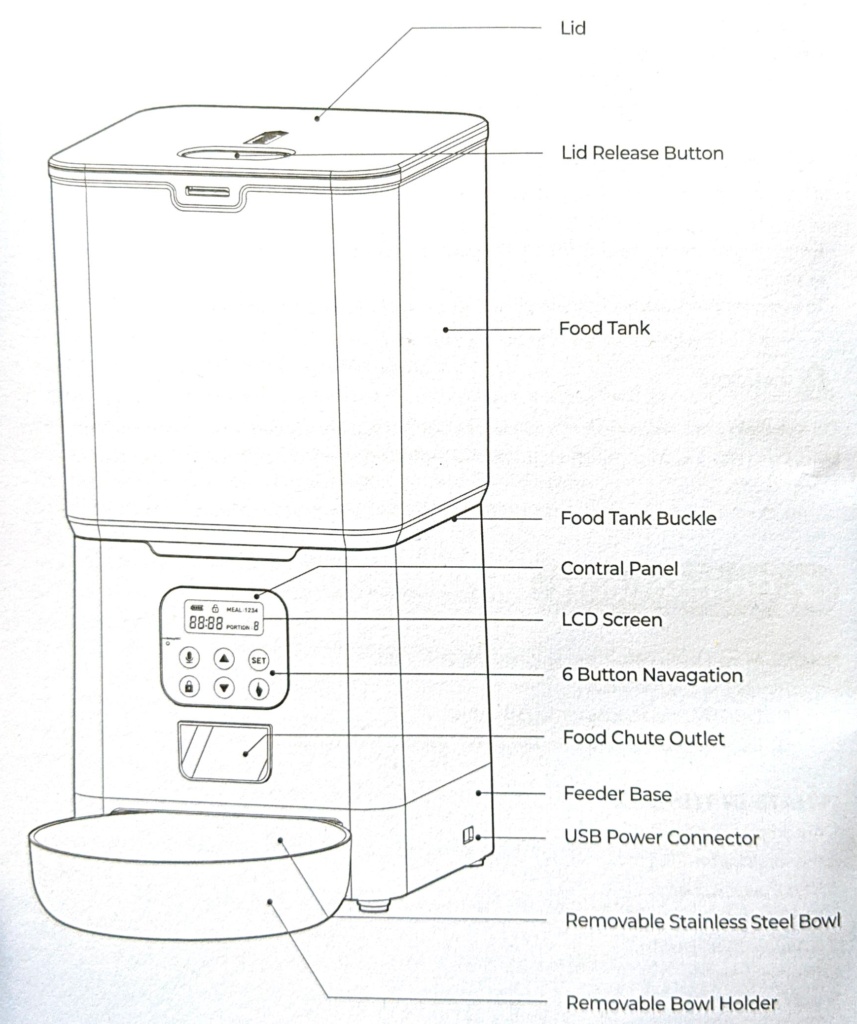 Important Safety Information
This is the safety alert symbol. It is used to alert you to potential personal injury hazards. Obey all safety messages that follow this symbol to avoid possible injury or death.
WARNING: Indicates a hazardous situation which, if not avoided, could result in death or serious injury.
CAUTION: Used without the safety alert symbol, indicates a hazardous situation which, if not avoided, could result in harm to your pet.
NOTICE: Is used to address safe use practices not related to personal injury.
WARNING
DO NOT immerse control panel in water. Base unit should NOT be submerged in water at any time, as this may damage electronic components.
DO NOT place anything on top of the pet feeder. The unit starts automatically. Keep clear.
Dispose of all packaging materials properly. Some items may be packed in polybags; these bags could cause suffocation; keep away from children and pets.
DO NOT allow small children to play with, in or around pet feeder.
To reduce the risk of injury, close supervision is necessary when an appliance is used by or near children.
Intended for use with dogs or cats only.
DO NOT use this pet feeder with puppies, kittens, dogs or cats not able to reach the food tray or with any physical disability.
DO NOT use outdoors. FOR INDOOR HOUSEHOLD USE ONLY. Check operation frequentlyto be sure the pet feeder is dispensing properly.
DO NOT use wet, canned or moist food. – Pet feeder should be placed on a level surface.
Before leaving for extended time, always replace batteries with new batteries.
DO NOT place any foreign object in the pet feeder.
DO NOT disassemble the pet feeder other than components as instructed in this operating guide.
To protect against electric shock, if using power cord do not place power cord or plug in. water or other liquids.
Only use attachments recommended or sold by the manufacturer.
DO NOT unplug by pulling on power cord. To unplug, grasp the plug, not the power cord.
DO NOT operate any appliance if has damaged power cord or plug, or if it malfunc tioning or has been damaged. Call the Customer Care Center immediately for further instructions.
For portable appliance- To reduce the risk of electrical shock, do not place or store an appliance where can fall or be pulled into tub or sink.
Always unplug any appliance when not in use, before putting on or taking off parts and before cleaning. Never pull on the electrical power cord to remove the plug from the wall outlet.
DO NOT use an appliance for anything other than its intended use.
If the plug of this device gets wet, turn off the electricity to that wall outlet. Do not attempt to unplug.
Examine this appliance after installation. Do not plug in if there is water on the or plug.
To avoid tripping, always position power cord out of the way of foot traffic.
CAUTION
Do not allow pets to chew on or swallow any parts. If you are concerned about the power cord, purchase a cord conduit (a hard plastic protector) at any hardware store to protect the power cord.
Components
Note: Bowl and bowl holder are shipped inside feeder.
Note: Power Supply method:
(1). DC 5.0V Power adapter & USB cable .
(2).3 D-cell alkaline batteries Required. Batteries NOT Included.
WHATS IN THE BOX
Automatic Pet Feeder
Power Adapter
USB Power Cable
Desiccant Bag
Stainless Steel Bowl
Bowl Holder
User Manual
6L Automatic Pet Feeder YHF19 User Guide pdf